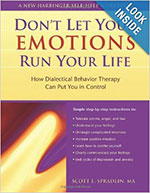 Don't Let Emotions Run Your Life: How Dialectical Behavior Therapy Can Put You in Control by Spradlin
This is a self-help book for adults that focuses on DBT skills in a user-friendly way. There are many cognitive exercises to help build mastery of these skills.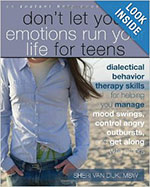 Don't Let Your Emotions Run Your Life for Teens by Van Djik
This workbook is an easy-to-use guide for teens who want to learn mindfulness, interpersonal effectiveness, emotional regulation, and other related skills.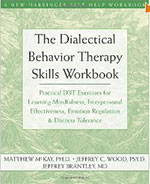 The Dialectical Behavior Therapy Skills Workbook by McKay, Wood, & Brantley
This workbook for adults is very easy to read and understand and presents mindfulness, interpersonal effectiveness, emotion regulation and distress tolerance skills in a comprehensible manner. Each skill set is broken down into basic and advanced level skills to allow mastery of the easier skills first.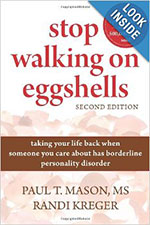 Stop Walking on Eggshells by Mason and Kreger
This classic book gives parents and other loved ones a better understanding of borderline personality disorder. Ideas on how to best address the emotional chaos are presented.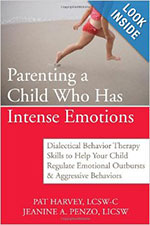 Parenting a Child Who Has Intense Emotions: Dialectical Behavior Therapy Skills to Help Your Child Regulate Emotional Outbursts and Aggressive Behaviors by Harvey and Penzo
This book is a good resource for parents who have children who are having tantrums, being aggressive or having school problems. It highlights behavioral management techniques in a DBT framework.
Contact Wise Minds
Carolinas Medical Center- Randolph Call Center 704-444-2400
National Suicide Prevention Lifeline 1-800-273-8255